The food industry is very competitive which often pushes restaurants to be better, smarter and more efficient. The cleverest way to observe your competition is to use them as motivation and inspiration for your business growth.
This doesn't mean you should copy other people's ideas. Every business owner needs to find their place in the market in order to prosper. Don't be discouraged if you don't get Michelin stars after your first week of business.
Nobody is having too much fun if their business investment is not providing a sufficient income. To avoid this from happening, you need a good plan. Therefore, the best place to start is to create an effective and sustainable business plan tailored to your own idea, resources and abilities.
Nevertheless, there are some common rules that are applicable to almost all restaurant business plans. Let's talk about these 5 brilliant tips that will work for you and your restaurant, as well.
1. Build a Trustworthy Team
Make sure that you find loyal employees. Use common sense when meeting your candidates for the first time and go with your gut feeling. Here we've listed a few additional things to consider when hiring your staff:
People with a consistent employment history are more likely to be loyal
There is a large portion of people over 45 years of age that are among the most loyal employees
Potentially loyal employees don't bad mouth their previous employers and are honest about their reasons for leaving their previous workplace
The next step is to build a relationship based on trust and respect. You can build employee loyalty in several ways. Here are some ideas that you can incorporate in to your work policy:
Ensure clear and open communication with your employees
Provide valuable feedback in a positive and encouraging manner
Enable different employment opportunities
Consider offering flexible hours and shift assignments
Offer smartly styled, high quality uniforms to build team spirit
2. Be Meticulous About Your Finances
How do you even know if your business is making money? Introduce different types of reports to make sure every dollar you invest is well spent and accounted for.
You can introduce a menu item sales report that shows which ingredients are your best sellers. Then you can plan your meals more efficiently and serve your patrons with the dishes they really want to order.
For example, you may notice that a significant number of your customers order chicken-based meals. This information can help you plan your next addition to your menu.
Groceries are not the only items that cost you money. You also need to pay your employees. To have decent workers, you need to pay them decent wages. Consequently, you need to make sure you are getting your money's worth.
Introducing an hourly labour report doesn't mean you distrust your employees. It will help you see how many staff members you really need. This will allow you to see if your team is working 100% efficiently.
3. Figure Out a Winning Marketing Formula
Your restaurant marketing formula needs to involve both offline and online efforts in order to be successful.
Both of these need to be outlined in your restaurant business plan. Build good relationships with your returning customers by creating loyalty programs or offering them birthday specials. Organise and promote wine tastings and national cuisine evenings. In other words, give people a reason to keep coming back to your restaurant.
You already know that your marketing game needs to be strong both offline and online. You need a good website, created by a professional and active and well managed social media profiles.
If you think you have better things to do than to manage your Facebook page, you are probably right! You shouldn't do it. However, you should definitely hire somebody else to do it for you. Facebook is not the only channel you should exploit. There's also Instagram and YouTube which are great tools for promoting your restaurant.
4. Create An Ambiance That People Will Love
People are able and willing to cook their own food or go to a friend's house for dinner. However, when it's a special occasion in their lives, they choose to go to a restaurant to make that day even more special. Your customers will come for the food, but they will bring their friends and family because your restaurant's lovely atmosphere or ambiance.
The first thing you need to think about is your restaurant location. Can you get a venue on a corner? Is there a parking lot available? What is the neighbourhood like?
Don't be disheartened if your perfectly positioned restaurant doesn't have enough space. You can make up for the lack of space with better organisation. Make sure your kitchen is perfectly designed so that it makes it easy to work there.
For example, completed orders should be placed at the very entrance of the kitchen, so that wait staff do not need to enter and make the space any more crowded.
Also, if you don't have enough space, focus on your takeaway menu and promotions. Allow people to book a table in advance using your website and prevent over crowding.
However, when it comes to designing your restaurant, we strongly recommend talking to a professional. Everything from your wall art down to the quality of your tea towels has to be perfect. And don't forget about your washroom. It goes without saying that your staff need high quality and spotless uniforms, as well.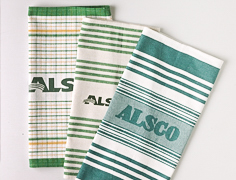 Tea Towels
Highly absorbent, perfectly cleaned, bacteria-free tea towels, essential to any respectable restaurant.
Learn more…
Washroom
A spotless and well-stocked washroom is important for your restaurant image.
Learn more…
Restaurant Staff Uniforms
Leave an impression of class and professionalism.
Learn more…
5. Pepper Your Venue With Unique Gimmicks
Your marketing and social media efforts will bloom if you get your customers to take photos, share them, brag a bit about their experience, tag their friends, check in and recommend your restaurant.
For this to happen, you need to have something Instagram or Pinterest worthy. It can be the interior itself, the way you serve your food, the way you fold your napkins or something entirely different.
Your idea doesn't have to be expensive in order to be effective.
Need a laundry service? Restaurant linen and uniform rental? A comprehensive solution for your washroom? We've got it all! And we also boast more than 19 years of experience in providing commercial services to Singaporean businesses.
---
Don't forget to share this post!